Woman spotted carrying a gun in church to protect herself after terrorist k!lled Christians in Nigeria
It is rumored that church members are now carrying guns.
In a photo that has gone viral on social media, a lady dressed all in white is seen with a revolver around her neck.
Others who were near her had their weapons as well.
Take a look at the image below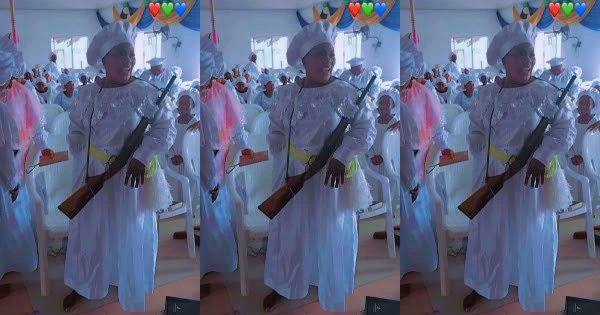 Following the recent church attack in Owo, Ondo State, Nigeria, church members have designed a new strategy to protect themselves should the incident occur again.
Recall that the world was shocked recently when terrorists invaded a Catholic church in Owo, Ondo State, Nigeria, killing 40 people and injuring over 80 others.
The reason for their heinous deed has yet to be revealed, but it appears that other church members have counseled themselves on how to live their lives because they are unable to stop attending church.